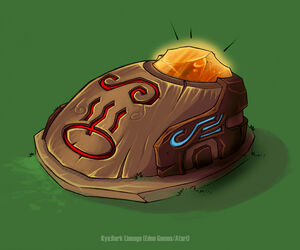 Shell elevators exist in all of the world and allow access to
Nativ City
and other shell elevators. They were closed by
Brazul
and
Kya
must use her magic abilities to reopen them. A picture of the destination and the number of
Wolfen
in that area are shown. Once Kya has opened a shell elevator, she can choose a new destination by jumping on a round stone around it to activate an air current that will transport her to the selected area. Inside a gigantic tree in Nativ City are all the elevators to each world, which allow access to the opened shell elevator in the respective places.
The RootsEdit
Nativ CityEdit
Flying ForestEdit
Hunter's DomainEdit
The QuarryEdit
The Air PostEdit
Wolfen CityEdit
There are three Elevators located in Wolfen City, one in the beginning, the middle and the end of the city.
Forgotten IslandEdit
The FortressEdit
There is only one Shell Elevator to the Fortress.
Area mentions that Brazul had sealed the Elevators up years ago, due to Kya learning the Awakening Power, she learned how to reopen the Elevators.
Kya must go to the Nativ City shell elevator, to choose a different location. The Elevators located in each place, can only transport her to other elevators in the area, or Nativ City. As an example, she can't go from an elevator in the Flying Forest, to Wolfen City, she must use the elevator in Nativ City to get there, or she can go to the Quarry, which has an entrance to Wolfen City.