Regeneration, is a power that allows Kya to heal herself, with the use of an
Amber
Crystal.
Kya receives this ability from Atea in the beginning of the game, as it is one of the abilities from the Awakening Power.

Regeneration gives Kya the power to heal herself whenever she is near an Amber stone; to use regeneration Kya needs Mana. Although amber requires mana, the giant amber stone in Nativ City does not require the use of Kya's mana power.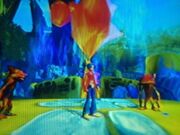 Community content is available under
CC-BY-SA
unless otherwise noted.