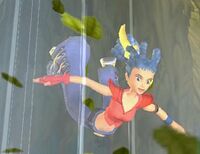 Freefalling is a mechanic in the game that is used frequently,
Kya
must make a leap of faith and use the air currents to push her around. Freefalling, allows her to navigate in areas that are otherwise unattainable. In order to land safely, Kya must locate an
Amortos
, or float into another air current, that will gently lead her onto the ground.
There are wind cannons scattered across the world, they will shoot Kya with a strong force of wind that will transport her from one place to another.
Community content is available under
CC-BY-SA
unless otherwise noted.