Forgotten Island is an island lost in time, surrounded by huge mountains, and lakes of lava. It is filled with black, and white hues, while being covered in a red/orange splatter, from the lava terrain. Brazuls laboratory is located on the Forgotten Island. In his lab there is the "machine", that turns
Nativs
, into
Wolfen
.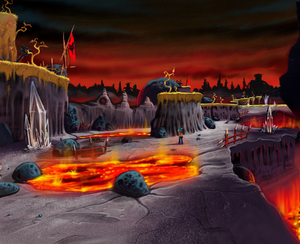 EnvironmentEdit
The Forgotten Island is a desolate, and bleak place, it is filled with pools of lava, and mini islands The flora on the island is all dried up and dead, creating a very blank atmosphere. Monsters in the area, have immunity to lava, as well as fire based attacks.
Kya goes to the Forgotten island to retrieve Frank. She finds him in Brazul's Lab, but unfortunately, he has been turned into a Wolfen. Kya, has no choice but to fight him, and after she wins he is turned back into himself.
Rare AnimalEdit
Dragon - A caterpillar shaped monster that pops out out of the ground. They spit fireballs, that leave a trail of lava.
Shell ElevatorsEdit
DestinationsEdit
Forgotten Island leads to the following areas.
Community content is available under
CC-BY-SA
unless otherwise noted.