Exorcism
gives
Kya
the ability to free
Nativs
from their
Wolfen
forms, Kya receives this ability from
Atea
.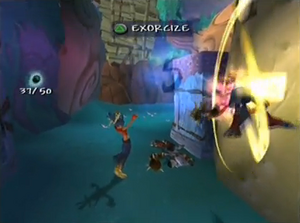 How it is ObtainedEdit
It is one of the powers that Kya receives from Atea, through the Awakening Power, in the beginning of the game.
In order for Kya to turn Wolfen back into Nativs, Kya must exorcise the Wolfen with the ability of the Awakening Power. Kya needs Mana orbs to exorcise Wolfen, each Wolfen type is different and the stronger the Wolfen, the more mana is required to exorcise them.
Mana RequirementsEdit
| | | |
| --- | --- | --- |
| Mana Needed | Profile | Wolfen Type |
| 5 | | Scrawny |
| {{{Mana2}}} | {{{Pro2}}} | {{{Wol2}}} |
| {{{Mana3}}} | {{{Pro2}}} | {{{Wol3}}} |
| {{{Mana4}}} | {{{Pro4}}} | {{{Wol4}}} |
| {{{Mana5}}} | {{{Pro5}}} | {{{Wol5}}} |
| {{{Mana6}}} | {{{Pro6}}} | {{{Wol6}}} |
| {{{Mana7}}} | {{{Pro7}}} | {{{Wol7}}} |
| {{{Mana8}}} | {{{Pro8}}} | {{{Wol8}}} |
| {{{Mana9}}} | {{{Pro9}}} | {{{Wol9}}} |
| {{{Mana10}}} | {{{Pro10}}} | {{{Wol10}}} |