Another World
is a dimension separate from the earth that
Kya: Dark Lineage
, takes place on. It's proper name is unknown, or may just be Another World.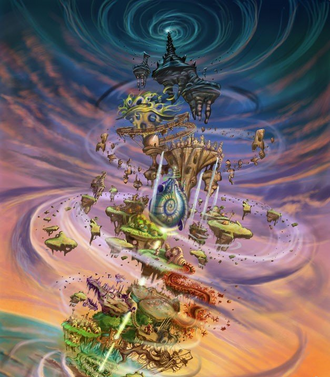 Another World is one of many different worlds, the following is a list of other known worlds.
InformationEdit
Another World's geology is the essence of fantasy, with islands, lands, mountains, and entire forests that float. The world is connected by air shafts, which are at least partially intelligently-made if not wholly. The land shown in Kya: Dark Lineage, is that of Forests, Jungles, Mountains, Deserts, Quarries and Volcanic areas. Water, is rarely seen in the world (Usually only seen flying off of floating islands). There are also no snowy, and/or cold climates, seen in the world.
LocationsEdit
In total, there are nine separate locations, and two sub locations.
EnvironmentEdit
Natural, and man made objects in the environment, are listed here.
Special ItemsEdit
TransportationEdit
Many creatures roam the land, some are humanoids, while others are more like animals.
The Resident sapient beings of the planet and, prior to the Wolfen and Brazul's appearance, the only higher creature seen in the land. Notable Nativs include:
The Second sapient beings, though technically, they aren't a true species. Wolfen are twisted Nativs, and rally being Brazul in his schemes. Wolfen come in a few forms:
Animals/MonstersEdit
Another World has animals in it similar to, but sometimes entirely different from the ones found on Earth. Some of these creatures are as follows:
OutsidersEdit
These are characters that are not originally from Another World, but currently reside in it when the story takes place.
Unlike earth, magic exists in this world. The Nativs have some control over it, as demonstrated by Atea. The land itself is peppered in Amber. If a person has enough Mana bound to themselves, it allows one to heal injuries, open Shell Elevators, and exorcise Wolfen. Some animals, such as the Mana Creature can produce Mana from their bodies.
Important magic abilities is as follows.
The only known currency of the land, is known as a Nooty. Nooties resemble that of a coin, and have a ball like object in the center. Nooties come in 1's, 5's and 10's, and are scattered all over the world. Some are found laying around, while others are hidden in crates, and are dropped by monsters.
Community content is available under
CC-BY-SA
unless otherwise noted.