Adada was a character who was cut from the final project and appeared in older character designs.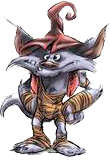 AppearanceEdit
Clothes: Adada has bandages around his body, including around his forearms, but bare in some places. The bandages give him a Tarzan type of look, where his abdominal, fore arms and feet are covered. He has a nice red hat that curves, like many Nativs in Nativ City.
Color: Adada looks like the average Nativ, as he is completely gray-blue. He has curly ears, a goofy smile and a Wolfen like tail.
PersonalityEdit
Since Adada never appears in the game, it is unknown what his character would have been like. Because of the dopey look on his face, his artwork suggests that he would have been the dimwitted character used for comic relief.